Life-size Dolls
Babies, toddlers, boys, girls, and men.
Here are life-sized dolls made of cloth. The dolls don't stand.
Most of them wear ready-made clothes.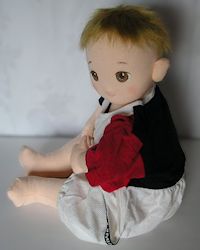 Gallery of dolls
These dolls are for sale only in Japan because of high shipping overseas.
The height of a doll is 52cm to 184cm. 1cm = 0.39 inches.
Men
Girls
Little girls
Little boys
Boys
Babies
Make life-size doll
Links
Privacy policy and email.
Copyright © Runo. All rights reserved.
Life-size Dolls » Man in sweatshirt